---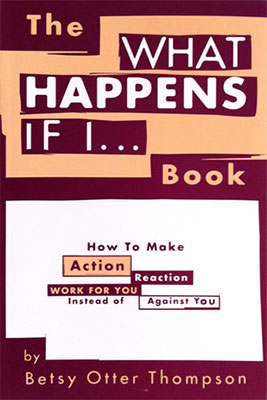 ---
ISBN: 1879023008
Pub Date: December 17, 2012
To order:
This slender book is packed full of wisdom, gentle guidance, psycho-spiritual insight, and practical skills to create the best possible outcome and achieve a more fulfilling life experience. "How To Make Action/Reaction Work For You instead of Against You" is the subtitle, and this inner journey is exactly the book's message. However, it is well known that how you say something holds equal (or more) weight than what you say–and this book says it so beautifully.
- Julie Clayton, New Consciousness Review
---
"I have never read a book whose message is as clear, concise and easy to absorb as The What Happens If I…Book. There are no words that can capture the intrinsic knowing that fills the pages of this book; nor can they express the self love and compassion that has emerged from within me since connecting with this brilliant piece of work. The energy is amazing, and one cannot help but FEEL the Truth in these words. Thank you Betsy. You just keep getting better."
- Ethel Jackson, Five Star Amazon review from radio host/Living From Within
---
"Filled with thought provoking questions the author, Betsy Otter Thompson, provides no frills, straight answers in a succinct and easy to understand way that everyone will be able to apply and implement in their life instantly. It doesn't get any better than this. Short, to the point, no excuses, truthful and insightful. It's a must read for anyone who wants to change their life easily and quickly. All you need to do is read and you will see where and what you need to do. It's so very clear."
- T. Love, Five Star Amazon review from "Spiritual Radio Show Host"
---
"Now and then a book comes along that is unique in its approach, avant-garde in its teachings, and both exciting and thought provoking in its scope. The What Happens if I…Book" is all of these. Betsy Otter Thompson poses 33 mind… provoking questions…like What Happens If I Insist There Must Be One Answer? What Happens If I Think I Have To Be Perfect? What Happens If I Live Without Integrity? Thompson gives answers that… are NOT run-of-the mill. Read it and you'll see what I mean."
- Irene Conlan, Five Star Amazon review from Host of the Radio Show, Self-Improvement
---
"I have been enjoying The WHAT HAPPENS IF I… Book. From the title and format to the simple, lovely way you articulate it's a wonderful read and full of elegant insight." 
Norman Lear
---
"Betsy Thompson's message to all of us is to love ourselves – and what a beautiful task that is to undertake. In her latest work, The WHAT HAPPENS IF I… Book, readers will find an alluring invitation to this challenge."
- Edith M. Donohue, Ph.D.
---
"I am moved, once again, to a heightened sense of curiosity and self-love by Betsy Thompson's work. All who read this book are blessed by her insight." 
- Tracy Lane
---
…"Deceptively easy to read, I found it leaves much to think about."
- Amazon Review
---
…The author of several other mind stretching books…the prolific Betsy Otter Thompson is a soul in wonder… The further I delved into the pages of [her new book The WHAT HAPPENS IF I…Book – How to Make Action/Reaction Work for You Instead of Against You], the more it seemed to be channeled through Thompson, rather than simply written by her, so effortlessly it flowed.
- Edie Weinstein, MSW, LSW