---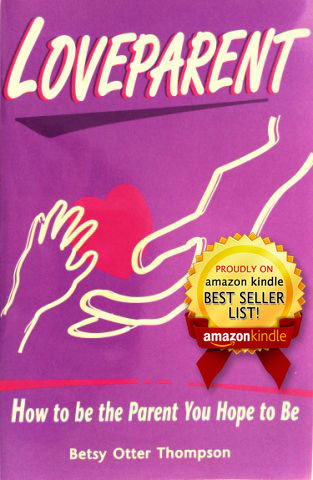 ---
ISBN: 978-148195-395-5
Pub Date: August 23, 2013
To order:
Betsy Otter Thompson has again written a beautiful book, LoveParent; this one about the art of raising children… A great read for anyone… parent or not. Keep up your great work Betsy!
- Ronnie McIntosh
---
If you are, or are planning to be, a parent and have misplaced your instruction manual–here it is! Love is all you need. How many times do we need to hear that message? Betsy is a writer with great style and spirit and I highly recommend reading LoveParent as a booster shot when your own spirit is flagging–whether you are a parent or someone's child. 
- Bathsheba Monk, 5 star review on Amazon
---
"LOVEPARENT is a beautiful book and deserves to be widely read. The message is nothing less than superb."
- Judith Stanton, Editor of "Emmanuel's Book"
---
"Even those of us who don't have children of our own will find handy kernels of truth in Ms. Thompson's respectful approach to a broad range of parenting issues in LoveParent." 
- Trace DeHaven
---
"In LOVEPARENT, I love the emphasis on the idea that being a gifted parent means being kind to oneself and role modeling – not lecturing. This book encourages us to live what matters to us, so that our children will choose wisely for themselves. I especially liked the chapters, Adolescence and Sibling Rivalry." 
- Peace Baxter
---
"LOVEPARENT is the perfect handbook to remember who we are and why we came here. Our children are born with the innate wisdom we have forgotten. Ms. Thompson clearly and kindly reminds us to allow our children to be our teachers." 
- Shianna Kuhn
---
"Thank you, Betsy, for the gift of LOVEPARENT."
- Joy Poulter
---
"LOVEPARENT encompasses every phase of life from birth… through childhood, mature adult, and is completely inspired by love… This [book] is an invaluable template for all of us." 
- Nena Girsch
---
"I wish I'd had this book when I was raising my children. My heart has been deeply moved by the message. Recommended reading for any parent or anyone considering parenthood." 
- Melba Burns, Ph.D. author, Romance Your Writer Within and Reawaken Your Passion to Write.
---
Once I started [LOVEPARENT] I couldn't stop until I finished… I wish I had this book when I started having children. Thank you for creating a book based on spiritual truths to help families grow and flourish. 
- Annette Kroninger
---
What you have to say in LOVEPARENT is, in my opinion, so very healthy! 
- Priscilla Shaffer
---
A MUST-read for parents or anyone contemplating parenthood, as well as a valuable guide for everyone. LOVEPARENT offers spiritual insight into why we choose to be here and contains wisdom beyond everyday and obvious perception. 
- The Rev. Hannelore Goodwin, Founder, Circle of Miracles
---
I have come to appreciate Betsy' writing for the great inspirational stuff that it is. Insightful, chock full of good stuff and well intentioned is the hallmark of this work. I am glad I spent the time with this book. 
- Giovanni Gelati