---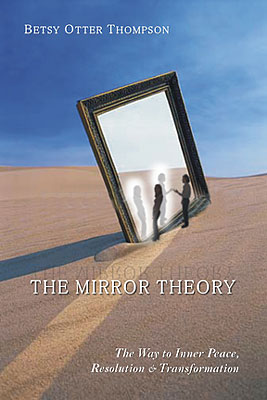 ---
ASIN: B0096DD5KY
Pub Date: February 1, 2005
To order:
"It is the soul of a book that matters and The Mirror Theoryhas one that even I can relate to."
- Norman Lear
---
"The Mirror Theory is a delight to read–not only for the story itself, but for the insight, wisdom, and hope the message brings to all of us."
- Neale Donald Walsch, author of Conversations with God
---
"A provocative book that forces the reader to question the nature of truth, love, and the beauty within each soul."
- Michael Nouri, actor
---
"There is more than mere reflection in The Mirror Theory. Betsy Otter Thompson's stories are like a jubilant game of 'hide and seek' where we learn that seeking and recognizing self through our relationships with others is the object of the game of life. You'll be less likely to play 'hide and blame' and more inspired to play 'seek and gain' in order to expand consciousness."
- Marina Craven Kaiser
---
"I enjoyed every page and couldn't put it down."
- Joy Poulter
---
"All I can say is WOW. I just finished reading The Mirror Theory, and am deeply impressed by its wisdom, its immediacy, and its originality. You have succeeded in doing what all of us writers strive to do: to take a fundamental truth, something that goes to the heart of being fully alive and fully human, and to give that truth a whole new face. In the process, you also give it a whole new meaning that people can share. And I hope that, in this case, your book will reach many, many people. This book has so much depth–and so much to say about being personally responsible, creating one's life, and knowing the love of God. Thank you for writing it, and sharing it with me."
- T. A. Barron, author
---
"There is so much good information in The Mirror Theory, as well as a wonderful message! It's very interesting to ponder the questions at the end of each chapter. I can really see where I need to grow in my life and also appreciate the areas where I have grown."
- Holly Foster Wells
---
"You did a very good job of laying out a controlled way for people to find a path to a happier life."
- Nonnie Barnes
---
"The Mirror Theory is full of love, wisdom, and hope."
- Asher Kimchi, M.D.
---
"I just wanted to thank you again for The Mirror Theory and the impact it has had on my experience of life."
- Trace DeHaven
---
"Almost every sentence gives me something to think about." 
- Bill DeHaven
---
"There is a wealth of information cram-packed in a small space and almost every page includes insight that is priceless in the grand scheme of my life. I can't thank Betsy enough for being gutsy enough to write this book."
- Gregory Lauer
---
"Just finished The Mirror Theory and I must say it is an important reminder to mind my own business… that business of Being Love. I'm recommending it to anyone who will listen." 
- Damion Kirk